Toolbox is a container. It can show groups of items separated by tabs. If there are to many items for a toolbar, you may want a toolbox.
A screenshot of a toolbox QToolBox is shown below.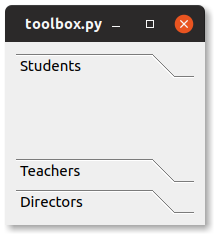 Related Course:
PyQt Desktop Apps with Python
Toolbox example
QToolBox
The code below creates a toolbox with 3 items. The toolbox QToolBox has a method .addItem().
The toolbox itself has to be added to a layout, for instance layout.addWidget(toolbox, 0, 0).
1




2




3




4




5




6




7




8




9




10




11




12




13




14




15




16




17




18




19




20




21




22




23




24




from

 PyQt5.QtWidgets 

import

 *


import

 sys



class

 

Window

(QWidget)

:

    

def

 

__init__

(self)

:


        QWidget.__init__(self)




        layout = QGridLayout()




        self.setLayout(layout)



        
        toolbox = QToolBox()
        layout.addWidget(toolbox, 0, 0)
        label = QLabel()
        toolbox.addItem(label, "Students")
        label = QLabel()
        toolbox.addItem(label, "Teachers")
        label = QLabel()
        toolbox.addItem(label, "Directors")

app = QApplication(sys.argv)
screen = Window()
screen.show()
sys.exit(app.exec_())