A menubar can be added to a PyQt window. Its a horizontal bar with buttons items, typically file menu and others.
This example adds a menubar and textbox to a PyQt window. As shown in the screenshot below.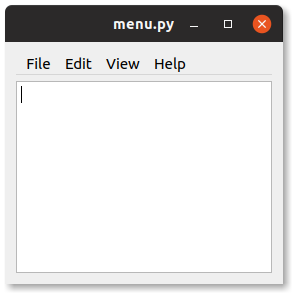 Related Course:
PyQt Desktop Apps with Python
PyQt Menubar
Menubar example
A menubar can be constructed with QMenuBar(). You can add menus like so .addMenu("File"). Then add actions to the menu so .addAction("Open").
The menubar has to be added to a layout, which is done with this line layout.addWidget(menubar, 0, 0).
1




2




3




4




5




6




7




8




9




10




11




12




13




14




15




16




17




18




19




20




21




22




23




24




25




26




27




28




29




30




31




32




from

 PyQt5.QtCore 

import

 *


from

 PyQt5.QtWidgets 

import

 *


import

 sys



class

 

Window

(QWidget)

:
    

def

 

__init__

(self)

:


        QWidget.__init__(self)




        layout = QGridLayout()




        self.setLayout(layout)



        
        menubar = QMenuBar()
        layout.addWidget(menubar, 0, 0)
        actionFile = menubar.addMenu("File")
        actionFile.addAction("New")
        actionFile.addAction("Open")
        actionFile.addAction("Save")
        actionFile.addSeparator()
        actionFile.addAction("Quit")
        menubar.addMenu("Edit")
        menubar.addMenu("View")
        menubar.addMenu("Help")

        # add textbox
        tbox = QPlainTextEdit()
        layout.addWidget(tbox, 1, 0)

        
app = QApplication(sys.argv)
screen = Window()
screen.show()
sys.exit(app.exec_())