Checkbox (QCheckbox) is a default qt widget that can be checked with the method setChecked(true). It's part of PyQt5.QtWidgets.
You can add a click callback / signal with .toggled.connect(). The receiving slot can then handle the event.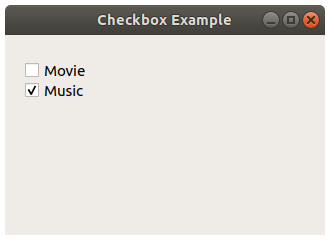 Related Course:
PyQt Desktop Apps with Python
QCheckBox
PyQt Checkbox Example
The example below creates a checkbox in a PyQt window. If you click on the checkbox it will call the method onClicked(). The method .isChecked() can be used to get the checkbox state.
1




2




3




4




5




6




7




8




9




10




11




12




13




14




15




16




17




18




19




20




21




22




23




from

 PyQt5.QtWidgets 

import

 *


import

 sys



class

 

Window

(QWidget)

:
    

def

 

__init__

(self)

:


        QWidget.__init__(self)




        layout = QGridLayout()




        self.setLayout(layout)



        radiobutton = QCheckBox(

"I have a Cat"

)
        radiobutton.setChecked(

True

)
        radiobutton.animal = 

"Cat"




        radiobutton.toggled.connect(self.onClicked)


        layout.addWidget(radiobutton, 

0

, 

0

)

    

def

 

onClicked

(self)

:


        radioButton = self.sender()


        print(

"Animal "

 + (radioButton.animal) + 

" is "

 + str(radioButton.isChecked()))



app = QApplication(sys.argv)




screen = Window()




screen.show()




sys.exit(app.exec_())