A QPixmap can be used to show an image in a PyQT window. QPixmap() can load an image, as parameter it has the filename. To show the image, add the QPixmap to a QLabel.
QPixmap supports all the major image formats: BMP,GIF,JPG,JPEG,PNG,PBM,PGM,PPM,XBM and XPM.
Download Examples:
Download PyQt examples
PyQT image
QPixmap
Start by creating a QPixmap and a QLabel. Then you can combine them like this:
self.im = QPixmap(

"./image.jpg"

)


self.label = QLabel()




self.label.setPixmap(self.im)



Then add the whole thing to a layout, like a QGridLayout
self.grid = QGridLayout()


self.grid.addWidget(self.label,

1

,

1

)


self.setLayout(self.grid)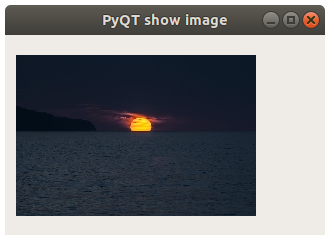 Example
Copy and paste the code below to load an image from your local computer. The image will be shown in a grid layout.
import

 sys


from

 PyQt5.QtWidgets 

import

 QApplication, QMainWindow, QLabel, QGridLayout, QWidget


from

 PyQt5.QtGui 

import

 QPixmap



class

 

Example

(QWidget)

:

    

def

 

__init__

(self)

:


        super().__init__()



        self.im = QPixmap(

"./image.jpg"

)


        self.label = QLabel()




        self.label.setPixmap(self.im)





        self.grid = QGridLayout()


        self.grid.addWidget(self.label,

1

,

1

)


        self.setLayout(self.grid)



        self.setGeometry(

50

,

50

,

320

,

200

)
        self.setWindowTitle(

"PyQT show image"

)


        self.show()





if

 __name__ == 

'__main__'

:


    app = QApplication(sys.argv)




    ex = Example()




    sys.exit(app.exec_())